Why Would I Care About Trello?
You might not. Especially if you have a great task management/project management system.
If you don't, you might look at it as it…
is a very easy to understand intuitive system.
is very configurable so it can map to your business.
has powerful functionality under the covers (due dates, assignment, notes, checklists, attachments, …)
support multiple team members so everyone can stay on the same page.
allows you to give clients access so you can improve your transparency and reporting with them.
integrates with a variety of systems to work with what you already have.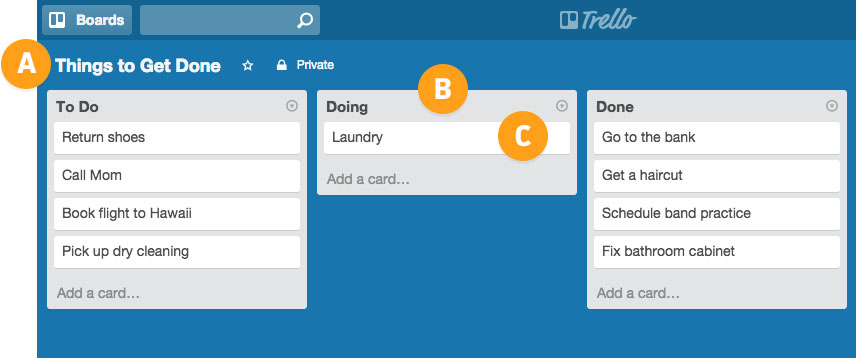 Another reason that you might care about it is that we use it with our clients. If you are or become one of our clients, we will use it to keep your projects on track.
We had been looking for a system to help us manage our projects for many years. We tried several. Made a couple attempts at building our own. Never got to a point where we were comfortable though.
Then we found Trello. It's the best of everything we've seen and we love it.
The Basic Idea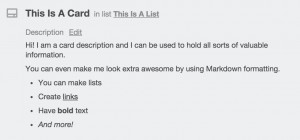 Trello is basically an online, extra featured Kanban system. In its most basic form, kanban involves a board, cards (for tasks) and sections or lanes (to do, doing, done).
Trello takes that concept and runs with it.
Using it, you can organize your projects into boards and in one glance, Trello tells you what's being worked on, who's working on what, and where something is in a process.
It is quite intuitive.
The App
As Trello's tagline says, it's "simple on the surface, with more under the hood." You can see the different tasks in progress, where they are in the process, who owns them and when they are due.
If you open up a card, there is lots more detail:
Members
Labels
Description
Due Date
Attachments
Checklists
Comments
Notifications
Graphical UI
Apps for iPhone, iPad, Android phones, tablets, watches and Kindle Fire tables
Powerful search functionality
Trello provides most functionality you need for free. The stuff that they charge for includes things like enhanced integrations, large file size attachments, centralized control, restriction of membership invitations, custom board backgrounds and stickers.