"I am stuck trying to grow my business."
We understand. You need more clients. You need more sales. But you're not sure what to do.
We can help.
We will dig into your goals and help develop a program to take your business to the next level.
First of All, You're not alone.
It's confusing…
There are so many options out there that it is nearly impossible for a small business owner to stay up to date and know what they should be doing. And it's only growing!
Marketing Land's study shows almost 4,000 companies now being part of the marketing technology landscape. That is a crazy jump from the 150 itemized back in 2011.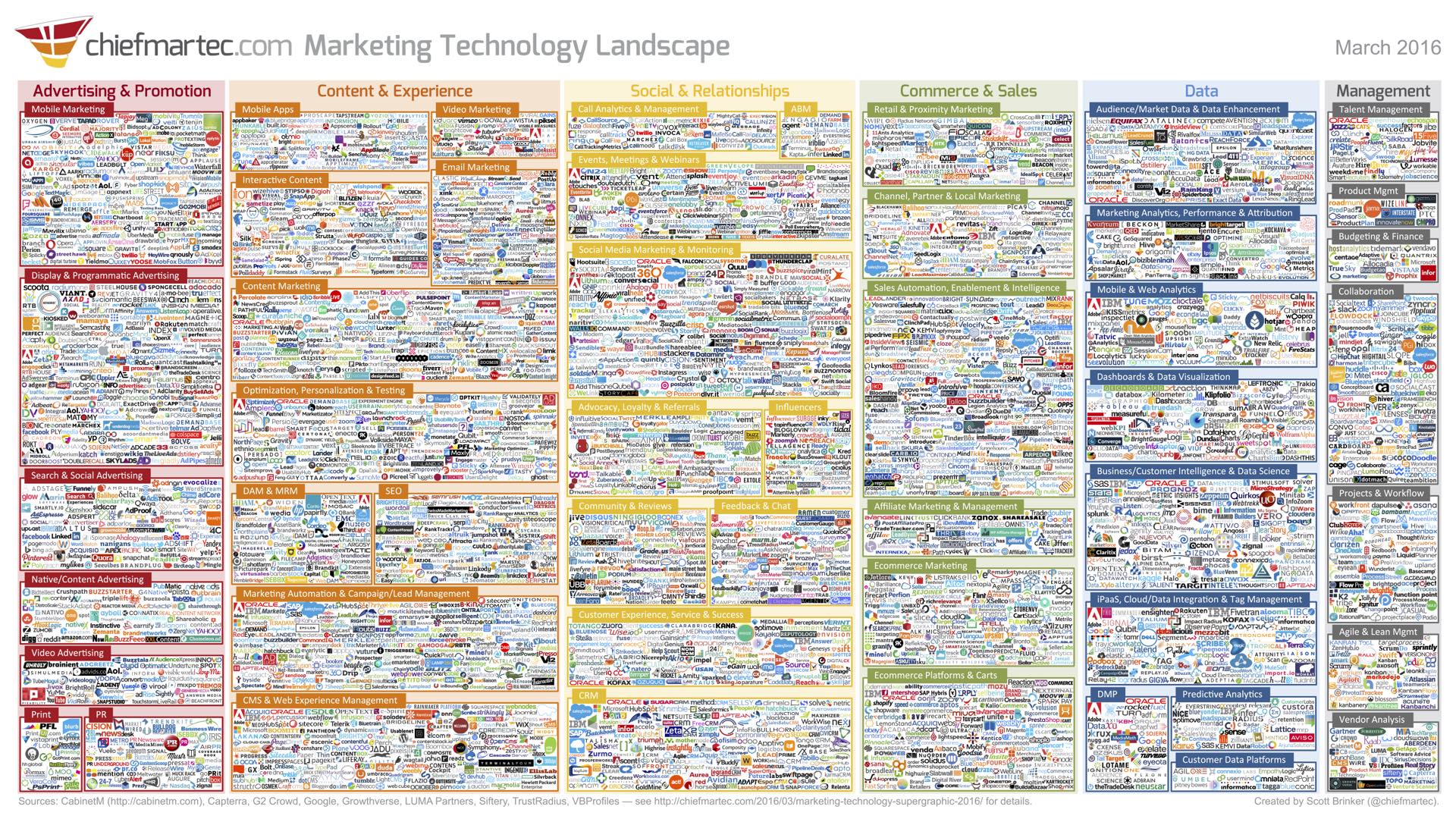 So how do we dig into all of this and figure out what works for you?
We'll Chat (Business Analysis)
The first thing we will do is sit down and talk about your business.
We have actually been doing this for 15 years. As part of our company legacy, doing mid-market CRM (customer relationship management) implementations, we would start by doing a thorough analysis of the business before we determined how we could help. Then we would formulate a plan and then work that plan alongside the business. Some of our competitors went niche (which we should have done) but we stayed broad. While that didn't make our lives any easier at the time, it gave us boatloads of experience in getting to know business from scratch, identifying problems and coming up with creative solutions.
We want to understand the things you sell, how you sell them, what channels you sell/market through, how your product/service fulfillment works and more. We have processes, tools and mechanics to help at all stages.
We will also want to understand what your short term and long term goals are.
We'll Cover Some Marketing Background
Then we'll cover some core marketing concepts. This just helps us make sure we're on the same page and talking the same language.
Things like…
CVO – customer value optimization
Product Market Fit
Before/After Grids
Problem Focused Websites
Problem Specific Conversion Paths
We'll Talk About How It Applies to You
Then we'll talk about how this all applies to you. We'll start at your core offer and work backwards. We'll help you figure out what content should be on your website and where.
We'll Come Up With a Plan
We'll help you figure out what types of content you need to produce for your website and for off-site uses. We will determine the structure of your funnel or funnels.
We will design an architecture that will support your needs right off the bat and that will allow you to grow and support your changing needs.
We'll Put It All In Place
Then as you work on fleshing out your content and developing what is needed, we'll start wiring everything together. This could be just a WordPress site or it could involve all sorts of things like contact forms, marketing automation platforms, membership plugins, learning management systems, landing pages, sales pages, pop ups, lead magnets and more. It depends on you and what you do.
We build everything on a development site and iterate until we're all happy.
Then we push to production and handle all the deployment details like site optimization for speed, Google Analytics, SEO functionality and configuration, redirection of existing URLs and more.
Then What?
You will be in a situation where you can concentrate on creating and publishing content.
You won't have to worry about all of the mechanics and different pieces in play.
Your intelligent funnels will spring into life around that content and lead your prospects through nurture and conversion.
Why Us?
Why should you work with us?
Because you don't want a site that just looks pretty. We focus on the overall goal of marketing – conveying the value proposition of your products and services to convert people to prospects, prospects to customers and customers to advocates.
Because you don't want a bunch of fluffy strategy talk. We focus on the mechanics of our craft. We dig in and are expert with the tools and strategies we use to make that happen.
Because you've been bitten by developers who didn't know what they were doing or who went MIA. We build it right the first time.
Because you just don't want the process to be painful. We are casual. We are nice. We are fun. We have the ability and take the time to understand  you and your business. Empathy is our super power.
Because your nephew's design didn't convert. We have the experience and context needed to ask the right questions.
Because you don't want to spend thousands of dollars on endless Gantt charts. We are pragmatic. We focus on results.
Because we work in the clouds and the dirt. We focus on the important stuff that leads to RESULTS.
If it sounds like we might be a good fit for you…